Public Activities
In the UK, I served on the Board of the British Library (1999-2003), the Council of Tate Gallery of British Art (1999-2003), as a member of the Research Committee of the British Museum from 2012 to 2020, and on the Steering Committee for Independent Review of Research Excellence Framework commissioned by the Minister of Universities and Science. I am currently a member of the UK Constitution Monitoring Group in London. The latter represents a continuation of my interest in making constitutional matters more widely known and understood. As part of that ambition, in 2008, I guest-curated an exhibition Taking Liberties at the British Library in London. This lasted from October 2008 to March 2009, and attracted 100,000 visitors.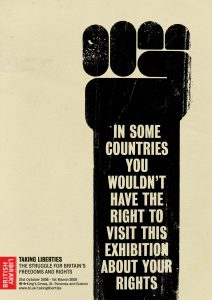 In the USA, I have been a member of the Advisory Board of the Yale Center for British Art (1987-97), a Board Member and Trustee of the Princeton University Press from 2007 to 2012, and am currently a member of the Research Advisory Council of the New York Public Library.
I feature occasionally on TV and radio programmes on history, cultural events and politics, writing and delivering a series of 15 talks of BBC Radio 4 in 2014, for instance, entitled Acts of Union and Disunion. Subsequently published under that title by Profile Books, these were designed to offer members of the public some deeper historical background on the formation and fractures of the United Kingdom, in readiness for the referendum on Scottish independence and – a then – possible future referendum on British withdrawal from the European Union.
I am regularly invited to supply historical background and context to policy-makers and administrators in London, Brussels and Washington, on issues to do with the UK, nationalism, identity and constitutionalism.